CMJ
(The Church's Ministry Among Jewish People)
"For I am not ashamed of the Gospel, for it is the power of God for salvation to everyone who believes, to the Jew first and also to the Greek." Romans 1:16
Christ Our King has a heart for God's people, and we believe that He will keep His promise to restore Israel and redeem the Jews. CMJ is an outreach to help accomplish this mission. Below, you'll find more information on the mission of CMJ and some ways that you can be involved in this!
The Church's Ministry Among Jewish People mission is to equip local congregations to share the transforming love of Messiah Jesus with their Jewish friends and neighbors. As a partner congregation, Christ Our King expresses this in many practical ways:
Supporting and educating local believers
Praying for the peace of Jerusalem
Teaching Christians about their Jewish Roots
Proclaiming the return of the King
"As Christians who are called to share the Gospel with all mankind, we acknowledge that Christians have a special responsibility to love, defend, and share the Gospel with God's historic, chosen people, the Jews. We take seriously the words of the Apostle Paul that the Gospel is "to the Jew first and then the Gentile" and call upon all Christians to do the same."
CMJ Article of Faith VIII To The Jew First And Then The Gentiles
Jewish-Gentile couples are always welcome at Christ Our King: Discover an alternative to conversion classes and find a place where you can discover God without losing your Jewish identity or your love for Jesus.
Are you interested in participating in CMJ?
Do you have a passion for Israel and the Jewish people?
Are you interested in building trusting relationships with Jewish people in the community?
Come be part of our team at Christ Our King – CMJ!
Pray for Israel and the Jewish people.
Connect with Jewish people.
Provide a warm and safe environment in which Jewish-Gentile couples
can find spiritual harmony at Christ Our King.
Help celebrate Jewish holidays and festivals.
Teach others about our connection to the Jewish people.
Celebrating Jewish Festivals
At Christ Our King, we recognize the importance and deep Biblical meaning of celebrating Jewish Festivals. Throughout the year, we will honor rich traditions such as Sukkot, Chanukah, Purim, and Passover. Would you like to learn more about these festivals and what they mean? Invite your friends and come find out!
Christ Our King Anglican Church has the unique privilege of being connected with the oldest Protestant church in all of Jerusalem. Every year, members of our congregation serve at Christ Church, through a variety of ministries. We help facilitate Vacation Bible School for local children, help out in the library or kitchen,
any place there is a need.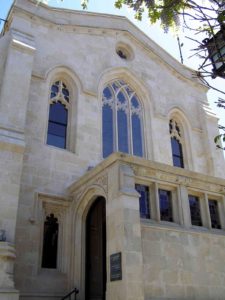 Purim – Purim is one of the most joyous and fun holidays on the Jewish Calendar March 6-7 2023
Pesach – Passover, The Feast Of Unleavened Bread April 5-13 2023
Shavuot – Festival Of Weeks, commemorates the giving of the Torah at Mount Sinai May 25-27, 2023
Tish'a B'Av – The Ninth Of Av, fast commemorating the destruction of the two Temples July 6-27, 2023
Rosh Hashana – The Jewish New Year Sept 15-17, 2023
Yom Kippur – Day Of Atonement Sept 24-25, 2023
Sukkot – Feast Of Tabernacles Sept 29-Oct 6, 2023
Shmini Atzeret – Eighth Day Of Assembly Oct 7, 2023
Simchat Torah – Day Of Celebrating The Torah Oct 7, 2023
Chanukah – The Jewish Festival Of Rededication (also known as the Festival Of Lights) Dec 7-15, 2023