"Blessed is the man who finds wisdom, the man who gains understanding…" Proverbs 3:13
COK is devoted to raising up godly men who are fully equipped to lead their families, churches, and the world at large.
Men's Monday Night Bible Study
Mondays at 6:45 in the Fellowship Hall

Led by Fr. Chuck Thebeau

Current study: The Book of Acts
COK men look forward to their Monday nights together and often continue their fellowship with a meal after their study.
Men's Thursday Morning Bible Study and Breakfast
Thursday mornings at 7:00 in the Fellowship Hall

Breakfast cooked by Rick Hamer

Bible Study
One ministry by the men to the church is our Holy Smokers team. In true Texas fashion, our men love to serve with the catering team to provide our parish with smoked meats for parish gatherings.
"It's a place where the men can congregate and enjoy the fellowship, share our lives, and connect spiritually as men. We meet to share the Gospel and then go hang out and socialize during dinner, just be one of the guys for a couple of hours." –
Peter on attending the Monday Night Men's Group
Annual Men's Retreat
Each spring, the men of Christ Our King gather together at Genesis ranch to have a focused time of worship and fellowship. The retreat is a great opportunity to develop lasting friendships and connect with other men in our parish. Look for more information regarding the men's retreat in the church calendar around spring time.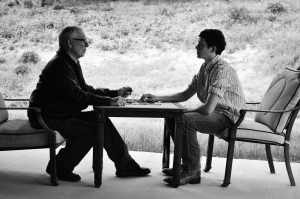 For more information about any of our men's ministries, please contact the church office.