Children's Ministry
"But Jesus called the children to Him and said, 'Let the little children come to me, and do not hinder them, for the Kingdom of God
belongs to such as these.'" Luke 18:16
Christ Our King Anglican Church has a vibrant children's ministry, with 3 key goals:
To use a variety of means to bring individuals to saving faith in Jesus Christ.

To use Church School and the Fine Arts to draw the believer into a deeper faith relationship with God.

To reach out to, and build, trusting relationships with other believers.
On average, 40-50 children – ages varying from infancy through pre-teen – are in attendance each Sunday. Below is an overview of the various aspects of our children's ministry.
Children's Chapel

Every Sunday except the first Sunday of the month (see below).

10:30am service during the sermon and prayers.

Ages 3-13

Children's Chapel is a fun time where we worship and pray together, hear and participate in a lesson that goes with the Gospel reading (usually), sometimes do a related craft or game, and sometimes go out to the playground together.

Children's Sermon

First Sunday of the month

10:30am service

Ages 0-13

Children join Fr. Chuck in the chancel where he engages them with different activities, gifts, or show-and-tell and relates them to the Gospel message.

Church School

Every Sunday, unless otherwise announced

9:35 – 10:25am

Ages 0-12

Children's Sunday school classes

Nursery Care

Activity Bags

Every Sunday

For children's use and entertainment during services, we have bags filled with different Bible-based activities. These bags are located in the back of the Sanctuary.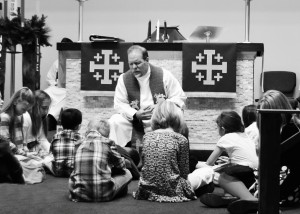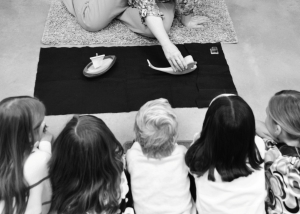 Children at COK also have the opportunity, upon attaining a certain age, to serve the clergy and congregation as acolytes.
Opportunities for Children To Serve
We have many outreach opportunities for children to not only be ministered to, but to also minister to others. Previously, our children have participated in:
Service to the homeless and needy through Family Promise

Service to the elderly at our Senior Valentine's party

Easter outreach to St. Jude's home for children.
Vacation Bible School

Alpha Parenting

Alpha Children's Program

Offered congruently with the adult Alpha course

Christmas Pageant

Easter Egg Hunt
Additional Ministry to Children
Parents can
sign
up to have another parishioner pray for their child on a daily basis.
Approximately every six weeks, an event is planned for families to attend together. Previous events include swimming, square dancing, and movie night.
Please contact Catherine Howanstine in the church office for more information about any of our Children's Ministry opportunities.